Update from Japan;
Meikayla, and the Football Ferns, have had a couple of tough games to open the Olympics. It doesn't get any easier with world number 5 Sweden looming on Tuesday night (NZ time). Meikayla took some time out to answer our questions and offer some great insight into the mindset of a top-level sportsperson.
What processes do you and the team go through to analyse the game post-match?
Initially after the game it is individually driven. Our analyst codes the game in the hours following and sometimes is up until the very early hours of the morning when we play anytime later than 8pm. You can imagine how long it takes to code each players individual touches!
Most players the following day will sit down with their laptop or iPad and watch their clips through. I will rewind many and look at different scenarios or options I could've taken. If I made the wrong attacking or defensive choice, if there was a negative outcome and conversely in there was a positive, I will look at why it was successful.
We also have access to the entire game to watch in its entirety, attacking and defensive corners, free kicks, throw-ins, chances etc.
Depending if we have to travel to another venue or not, we will have a meeting that following day and go over some clips together as a recap. Positives examined outweigh the negatives, especially if the result was a loss. We look at what we collectively did well and discuss what we didn't. As athletes we are wired to heavily assess performances, especially in the event of a loss. Mistakes always overpower what we actually did well, so when we come together it is important to mention the negatives because we don't want them to happen again, but it is more important to look at what we did do well because sometimes these aren't even realised in the wake of a defeat, especially at such a huge event like the Olympics.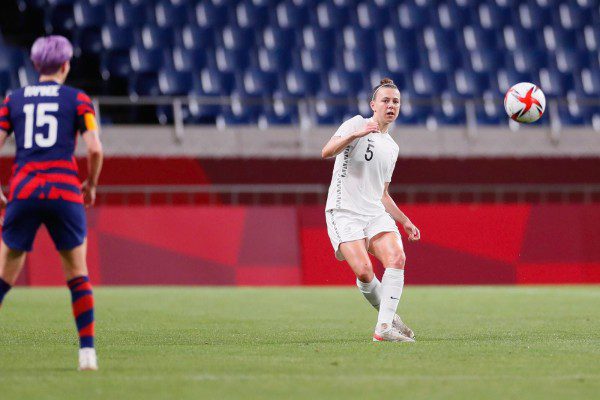 Photo courtesy of Photo Sport NZ
After a tough game like the US, how do you get yourself up for the next game?
Initially it's really tough. It was devastating for the result to end the way it did. Especially because it wasn't a reflection of the game. Individual defending errors in the final minutes from myself and others were costly. Honestly you feel quite numb after games like that, as well as feelings of frustration and utter sadness. You never want a game to end like that. But in the moment, you can't comprehend a lot because it just hurts and you think of everybody supporting you and how you have let down the staff, the NZ Olympic team, and everybody back in Aotearoa.
But when you get into bed you have to try let it go because the game is done and right now you have to sleep and recover for the next game. The next day is certainly a challenging time. You're still processing the game, while recovering and preparing for the next. Here at the Olympics the time between games is only 3 days, so you have a rest day for those that played and a training for those that didn't. The following is already match day minus 1. So, it's a very short turnaround. You can't dwell, there's literally no time for it.
After the final whistle against the US our mind is already needing to shift to Sweden. It is an odd and challenging concept but one not foreign to us as footballers. At 25 years of age, I am still learning how to work through such a situation. The US is always going to be a tough challenge, and even more so after being 18 months apart from each other. But you can only look forward, you take the lessons, and you go again, it's always an absolute privilege to test yourselves against the best.
What sort of pre-game analysis takes place to give you an edge over your opponent?
The staff spend hours going through footage and deciphering a game plan to implement against our next opponent. In the case of our next match against Sweden they will look at their two most recent games against the US and Australia and pull key clips and pictures to show us today and tomorrow. Like I said above we don't have a lot of time, so the messages are concise and direct. We will go through them on and off the field today and recap again tomorrow on game day. As players we also have access to the footage from their games and as a defender, I will often look at certain players and their attacking quarter entries as well as corners and set pieces. The days between a match like the US, who are currently world number 1, and Sweden, who are currently world number 5, are crucial also from a recovery perspective. In Tokyo with such warm temperatures, we are staying indoors, hydrating, receiving treatment, stretching, icing and compressing. We're doing all we can to prepare our bodies and minds to go again.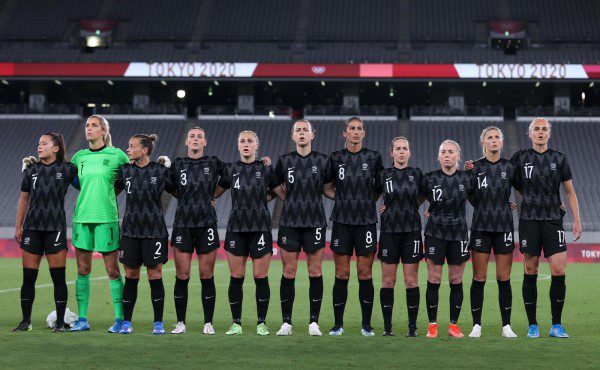 Photo courtesy of FIFA via Getty Images