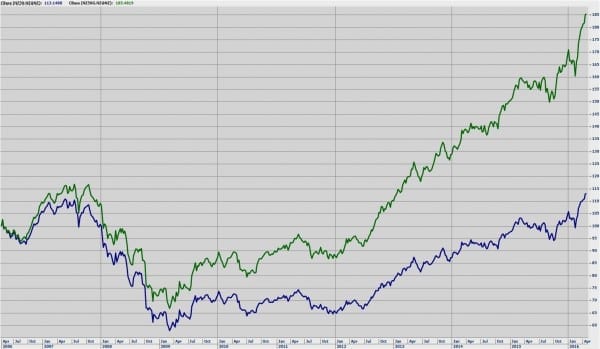 The table above shows the impact of dividends on the NZX50 gross index over the past ten years. The green line representing the oft-reported NZX50 index, and the blue line representing the NZX50 Capital Index which has just surpassed 2007 highs. Grant Davies talks to Stuff reporter Richard Meadows below.
---
New Zealand's top listed corporates have officially overtaken their pre-global financial crisis valuations.
The NZX 50 capital index hit a high of 3325.89 on May 24, 2007.
The ensuing global financial crisis almost halved that value before a long, slow recovery process began.
Nine years later, the stock exchange has finally surpassed the previous peak, with the index valued at 3359.63 on Tuesday.
While headlines suggest the market is constantly hitting new record highs, that is on the basis of the NZX 50 "gross" index which includes re-invested dividend payments.
The gross index has soared almost 60 per cent over the same time it has taken the capital index to break even.
Former NZX boss Mark Weldon changed the market's benchmark to a gross index in 2003.
Hamilton Hindin Greene investment adviser Grant Davies said New Zealand was one of the only markets in the world to use a gross measure.
Overtaking the 2007 peak on the more directly comparable capital index was worth celebrating, he said.
"There's been a lot of pain for investors, particularly in 2008 and 2009. It's been a long recovery."
Davies said the justification for using a gross index was that New Zealand companies paid unusually high dividends.
Many local corporates were operating in "captured markets", with little appetite to expand beyond the country's borders.
That meant profits tended to be paid out to shareholders rather than re-invested in the company's growth.
Davies said dividend yields were typically 5 to 6 per cent and sometimes higher, while in overseas markets yields were more like 1 or 2 per cent.
While the NZX capital index has surpassed the 2007 peak, it is not yet at an all-time high.
The index was at almost 4000 points in 1987, immediately before a stockmarket crash wiped out huge swathes of the market.